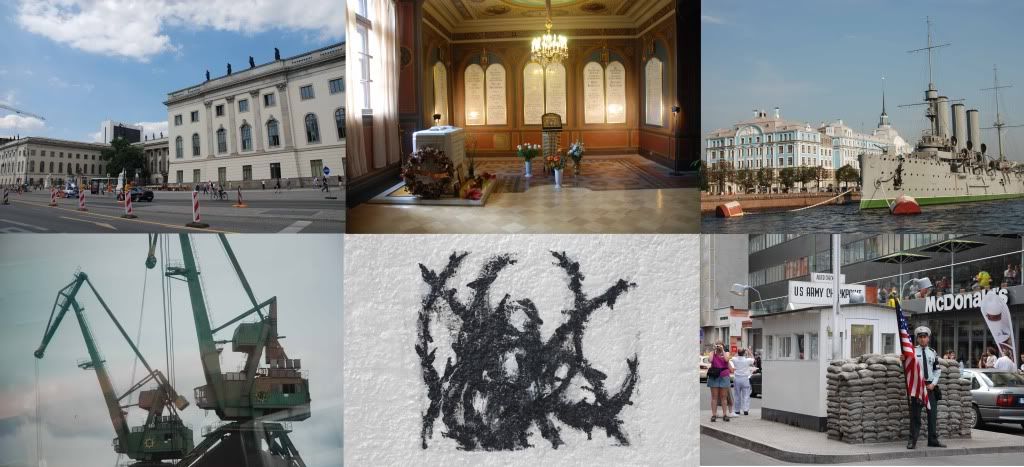 It's funny how life writes its own script. Last year Mrs. Dr. Balb and I took a month and tootled around the Mediterranean - and it was only when we got back that we realized we had effectively done a Tour of the Peoples of the Book, from the Vatican to the Blue Mosque to the Great Synagogue of Brussels.
This year we did a month of wandering around the Baltic. When we went back to our journals and photos and looked for this year's theme, our unwitting, retrofitted leitmotif surprised us once again - The Rise and Fall of Communism.
Upper row:
- The University of Berlin, where Karl Marx studied and first began to formulate his world view.
- The grave of Nicholas II and family, the last of the Czars, assassinated in the first wave of rebellion.
- The Aurora, the destroyer anchored in St. Petersburg whose sailors refused their orders and fired on the Winter Palace in 1917, marking the start of the Russian Revolution.
Lower Row:
- The shipyards of Gdansk in Poland. A strike called by dock workers in support of dismissed activists marked the beginning of the end for the Soviet Union.
- The last remaining kilometer of the Berlin Wall is now an outdoor gallery, a concrete canvas featuring works by artists from around the world celebrating its collapse.
- Checkpoint Charlie, the heavily defended crossing point between East and West Germany - now the site of its own McDonalds.
I wonder which great religion we'll stumble through next year...
crossposted from Stageleft